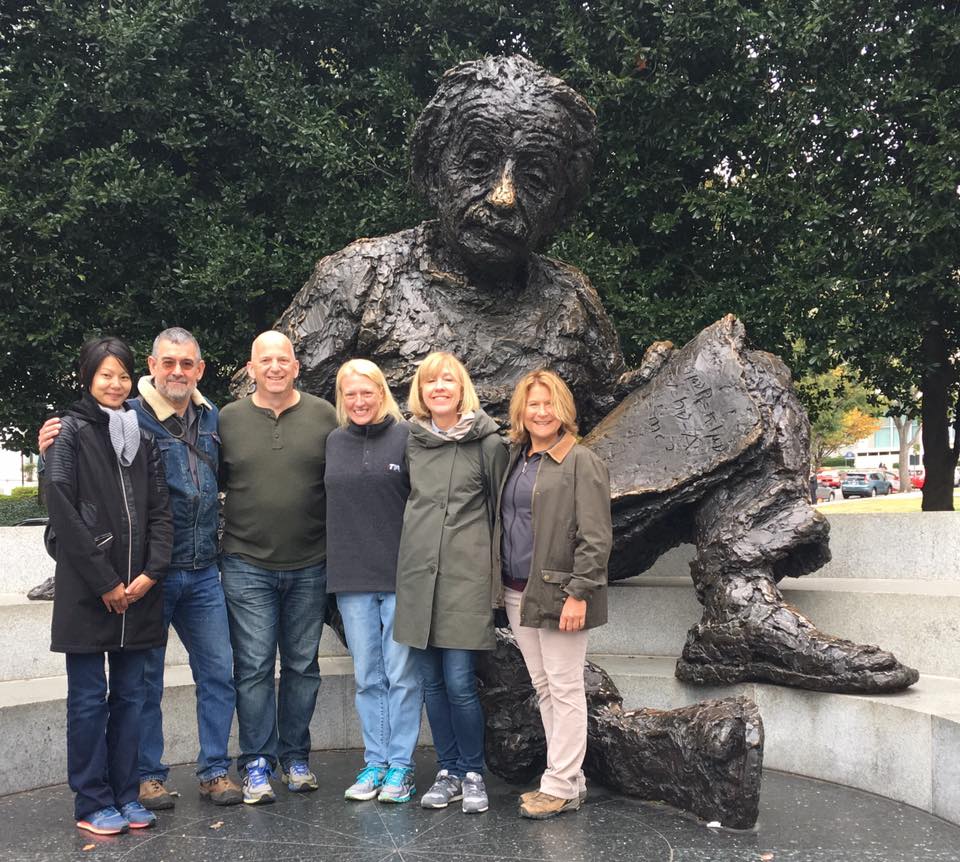 In the photo you see some of the current participants in my Visionary Leadership Academy standing in front of the Albert Einstein memorial in downtown DC. Last week we went on a sojourn to visit Albert along with Eleanor Roosevelt, Abraham Lincoln and Martin Luther King, Jr – all visionaries ahead of their time.
We walked in the rain, had powerful talks, and applied what we learned from each of these great people to our own work. Among the insights my visionary group shared: "These are ordinary people who did extraordinary things," "They kept their eyes on the big stuff, kept true to their ideals," and "They never knew how far they would get – it was always just one step at a time."
Each of us brought a particular issue we were wrestling with to our walk and talks. They included things like, "I wonder if I can be a CEO and still be true to my own ideals about life balance?" or "How do I find my community?" or "I now have a job where I am supervising people who used to be my peers, how can I be successful?"
We are so lucky to have great ones who walked before us and see their examples. Often it is not what one would expect. Einstein did his thought experiments, conceived of relativity theory, with almost no mathematics. As leaders, do we trust our intuition? Do we follow inclinations that tell us the world is so different from what we see?
The issue I brought to our walk had to do with morality. Is there a way to measure right and wrong? Our last stop was a visit to the Martin Luther King, Jr memorial. The powerful quotes on the walls around his majestic figure moved me. I could not have found a better example of a leader with a strong moral compass.
Make a career of humanity. Commit yourself to the noble struggle for equal rights. You will make a greater person of yourself, a greater nation of your country and a finer world to live in.
– Martin Luther King, Jr.